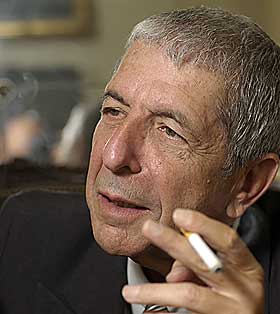 2008 looks to be a prosperous and busy year for Leonard Cohen. First off....the highly influential singer-songwriter will be inducted into the Rock and Roll Hall of Fame on March 10th in a ceremony held at the Waldorf Astoria Hotel in New York City. Well deserved, Leonard.
Secondly, Cohen, who hasn't had a full tour in nearly 15 years, is expected to tour the United States and Canada starting in May, followed up with a tour of Europe, according to his website.

Cohen holds a special place in my record collection.

Although most people who know me, know that I'm not a particularly religious person, I've always had a belief in a universal spirituality. I'm not great at explaining abstract spiritual concepts and I won't try and do that now. However, I can tell you that listening to the records of Leonard Cohen and Van Morrison give me that feeling of universal spirituality. Capturing the essence of the spiritual world of Leonard Cohen is a daunting task, but Kurt Cobain, comes as close as anybody when he sings in the song, Pennyroyal Tea

Give me a Leonard Cohen afterworld
So I can sigh eternally

There is something about Leonard's poetry combined with the soothing and comforting voice of Leonard that takes me away. Don't forget that Leonard is a poet at heart. He began as a poet in Montreal, and continued after he combined music to his words.

To get an idea of what the voice of Leonard Cohen can do, watch this performance of Suzanne, recorded at the infamous Isle of Wight Festival in 1970.

For proper perspective, you must realize that the Isle of Wight Festival was largely a disaster. It was essentially the last stand of radical anti-capitalism. Many in the young crowd felt it unethical to charge admission to the festival and thus crashed the gates and rioted throughout the event. Many in the crowd harassed the performers during their sets, unfairly characterizing the performers of profit-orientated bourgeois behavior, forgetting that many costs are associated with putting on a festival. Joni Mitchell finally got fed up with the naive crowd and called them "tourists". Bad vibes were all around, essentially a European Altamont.

Watch as Mr. Cohen had everybody's ear for this haunting and spectacular version of Suzanne.
I highly recommend watching the Leonard Cohen
documentary
,
Leonard Cohen: I'm Your Man
. The documentary features performances and interviews with admirers such as Beth Orton, Linda Thompson, Nick Cave,
Jarvis
Cocker
, Rufus and Martha Wainwright, U2, as well as the man himself.
Sometimes, when you no longer see yourself as the hero of your own drama, expecting victory after victory, and you understand deeply that this is not paradise... somehow we're, especially the privileged ones that we are, we somehow embrace the notion that this veil of tears, that it's

perfectable

, that you're going to get it all straight. I've found that things became a lot easier when I no longer expected to win. - Leonard Cohen
Beautiful Losers- Leonard Cohen