Marah
Jan 26 2008 @ 400 Bar
Simply...one of the best rock and roll live bands around. Their albums don't come close to showing what a great band this is. However, early reviews of their new record, "Angels of Destruction" are claiming it the best since their solid, "Kids in Philly". Come see why Bruce Springsteen sometimes joins this band onstage.
**Editors Note** According to the band's website, their tour has been cancelled. Hopefully, they'll be able to sort out the issues within the band and re-schedule.
Watch Marah live from the Abby Pub in Chicago take a stab at The Replacements "Can't Hardly Wait".
http://www.marah-usa.com/
Jason Isbell and the 400 Unit

Feb 6 2008 @ Varsity Theatre

The former Drive-By-Truckers guitarist/singer was forced out on his own and it's benefited both parties involved. Isbell has proven that he's strong enough artistically to succeed on his own. Isbell's 2006 disc "Sirens of the Ditch" was one of the best records of the year. He should also have the very talented Derry deBorja (Son Volt/ex-Canyon) on keyboards, along with his fantastic MuscleShoals-based band, the 400 Unit.
http://www.myspace.com/jasonisbellmusic

Daniel Johnston

February 8 2008 @ First Avenue

The underground-hero, eccentric, mentally-unstable, singer-songwriter had his story exposed in the 2005 Sundance Award-Winning Film, "The Devil and Daniel Johnston." The film is a must see for music wonks. Hopefully, a relatively stable and comfortable Mr. Johnston will show up, showing why everyone from Nirvana to Sonic Youth has championed his recordings.

Watch the trailer for "The Devil and Daniel Johnston"
http://www.myspace.com/dannyjohnston
Mark Olson w/ Janey & Marc
Feb 10 2008 @ 400 Bar
Like Isbell, Mark Olson is another singer that left a great band (The Jayhawks) and had enough talent to succeed on his own. He's been solo for 10 years now and doesn't show any signs of letting up. Opening the show is Olson's former bandmate in the Jayhawks, Marc Perlman, who teams up with Janey Winterbauer (ex-Astronaught Wife) for the folk-Americana duo, Janey and Marc.
http://www.myspace.com/markolsonmusic
Cat Power
Feb 11 2008 @ First Avenue

Cat Power (aka Chan Marshall) is also an eccentric, mentally-unstable, singer-songwriter. She also happens to be very gifted and her 2006 record, "The Greatest" was one of the best records of the year. Fortunately, she's coming to the hallowed halls of First Avenue with a great backing soul band that will attempt to recreate the soulfull Memphis sounds featured on "The Greatest". She's now touring on the newly-released covers album, Jukebox. Hopefully, we'll be treated to a couple. Which Chan will show up? The one who has onstage meltdown/trainwreck-type shows or the one who will show why she is such a respected artist.
Watch Cat Power's video for "Living Proof"
http://www.myspace.com/catpower
Super Furry Animals
Feb 15 2008 @ Varsity Theatre
The Super Furry Animals are the greatest Welsh exports since Tom Jones. The SFA's have been a bit inconsistent on the album front, going from producing must-have masterpieces, "Rings Around the World" and "Fuzzy Logic" to the largely forgettable "Love Kraft". They are now touring on the new Rough Trade release, "Hey Venus!" which is getting good reviews. Additionally, the SFA's put on one of the best live shows anywhere, as I can attest to, having attended their great show at the Fine Line in 2005. They've been known to dress up as furry animals and spacemen and your senses should be overloaded with videos and lights, while playing great psychedelic rock. Not to be missed.
*The Super Furry Animals are also doing a free in-store show at The Electric Fetus at 3:00 PM*

http://www.myspace.com/superfurry
New York Dolls
Feb 24 2008 @ Fine Line Music Cafe
Sure....Johnny Thunders is dead. Jerry Nolan is dead....and Arthur "Killer" Kane is dead. However, this is a legendary and influential band, and despite missing what many people consider the soul of the band, the remaining members, David Johannsen and Syl Sylvain, have assembled a respectable band, to perform the songs we all love and adore. Their 2006 show at First Avenue wasn't mind-blowing, but it was good enough for me to "Put My Arms Around a Memory" again.
http://www.myspace.com/newyorkdolls
http://www.nydolls.org/
Black Moth Super Rainbow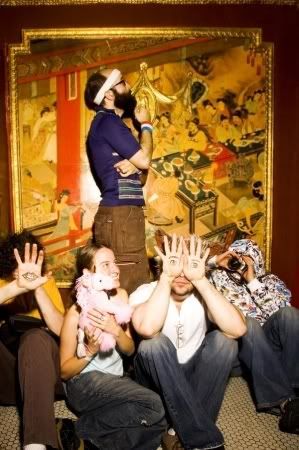 March 27 2008 @ 7th St. Entry
These guys opened for the legendary Flaming Lips last year at the Myth. Their intrumental, psychedelia impressed most of the Flaming Lips crowd....a hard task indeed. This band should be better suited at the Entry, however.
http://www.myspace.com/blackmothsuperrainbow
The Hives
Feb 28 2008 @ First Avenue
Yes.....another one of the "The" bands (The Strokes, The White Stripes, etc.) that came to fruition during the latest garage-rawk revolution in 2000. Although I only have one record by The Hives, Veni Vedi Vicious, I love everything about them...their attitude, their story, and of course the music. What good Garage RAWK is all about. Unfortunately, or fortunately depending on the set times, they are playing a wall away from the current Garage RAWK kings, The Black Lips, who are playing The Entry.
http://www.myspace.com/thehives
Black Lips
Feb 28 2008 @ 7th St. Entry
Currently, the Black Lips, are one of my favorite bands. This Atlanta-based quartet was one of the last bands signed by the legendary Greg Shaw at Bomp Records before Shaw's passing. Shaw, like his late friend, Lester Bangs, always had a great ear for music, especially bands that fit into the garage/pyschedelia scene. The Black Lips have toured non-stop the past few years, and if you've ever seen them live, you know how exhausting that must be. They've also played the Late Night With Conan O'Brien show, and despite this exposure, they are still playing the cozy 7th St. Entry. This may be your last chance to see them in a venue this small. Warning....their shows can get a bit out of control......beware.
http://www.myspace.com/blacklips
First Communion Afterparty w/ Gospel Gossip
Feb 29 2008 @ 400 Bar
I first heard about First Communion Afterparty a few years ago. I was going thru a deep addiction to the Brian Jonestown Massacre and their ancillary scene....and so were the Afterparty. I would see them at shows by the Jonestown, Warlocks, The Black Angles, Out Crowd, Dandy Warhols and what seems like a hundred other Anton Newcombe-inspired bands. I first saw them at the 7th St. Entry over a year ago and was totally blown away. I knew right then that this was the best band in Minneapolis...and probably the best band to come from here the last 5 years. I thought they were more inspiring than their musical compadres and much-more-hyped, The Black Angels, and their music was transcendent. I became aquainted briefly with now ex-drummer Mara Apple..sauce (now in the band Shy) and Liam Watkins. I've also had a chance to talk with lead singer, Mama Carin, at a recent Hopewell show. These young-energetic musicians are not only good people, they really know their rock and it translates to their music. This will be one of their last shows before the band heads down to Austin, TX for the South By Southwest (SXSW) Music Festival. Here's hoping that someone down there tunes into what we've known for quite some time....this is a great band. I've been hoping for a full-length album for quite some time. In the meantime, they do have a live record out, recorded at the Varsity Theatre last year. By the way, Gospel Gossip is a fantastic shoegaze-type band from Northfield. Here's your chance to see two of the best bands from Minnesota in one night.
* Photo courtesy of Tony Nelson http://www.tonynelsonphoto.com/
http://www.myspace.com/theafterparty
http://www.myspace.com/gospelgossip
Bob Mould Band
Mar 5 2008 @ First Avenue
Just about 10 years ago, Bob Mould, prior to The Last Dog and Pony Show tour, told his fans that the tour would be the last time EVER that he'd perform with a full-on rock band. Apparently, hearing problems and references to Neil Young & Crazy Horse looking ridiculously old, caused the ex-Husker Du frontman, to pull up the stakes on loud rock-n-roll. Well....fortunately for us....he... like David Bowie.....has renigged on the promise. I've seen Bob Mould probably 20 times and although he's fantastic solo acoustic, there is nothing quite like RAWK Bob. Bob's shows are some of the loudest shows I've ever been too, so if you're a wimp, bring earplugs. His catalog matches up against anyone. This is going to be a great show.
http://www.bobmould.com/
http://modulate.blogspot.com/
http://www.myspace.com/bobmould
Steven Malkmus & The Jicks
Mar 17 2008 @ First Avenue

I, like a lot of indie-rock kids in the 90's, loved Malkmus' band, Pavement. I haven't followed him much since he's gone solo, but I did get a chance to see him with The Jicks open for Radiohead at Alpine Valley in 2003. Although he went on early and I missed a third of the show, I was impressed.
http://www.myspace.com/stephenmalkmus
Black Mountain
Mar 24 2008 @ 7th St. Entry

I'm pissed that I missed these guys the last time thru town. Fortunately, they're back six months later and I get a chance to see what the buzz is all about. All I know is that they're a fantastic heavy-psychedelic/garage band from Vancouver, coming out of the same scene that birthed bands like the Brian Jonestown Massacre, the Warlocks, and Dead Meadow.
http://www.myspace.com/blackmountain
Gary Louris

Mar 25 2008 @ State Theatre
Gary Louris did a fantastic job leading the Jayhawks thru their post-Mark Olson years. The loss of Olson seemed initially heavy, but the Louris-headed Jayhawks were just as phenomenal as before and they didn't miss a beat. After the final breakup of the legendary Jayhawks, Gary is releasing his first solo record, "Vagabonds" (in stores Feb. 19th) produced by his friend, Chris Robinson (Black Crowes). If the few songs I've heard on his myspace page and other blogs are any indication, this is going to be a great record, start to finish. Gary has been hanging out in the Laural Canyon scene lately, so expect to hear nods to that breeding ground of pyschedelia by way of the Byrds.
http://www.myspace.com/garylouris